POLY STAKE ACCOUNT GUIDE












This Guide isn't about Desert Treasure Quest Completion and Barrage/Burst to 99.
Requirements:
- 50M Coins
What to Buy:
-Mazcab Ability Codex [ 20m GE Price ]
-Blood Necklace Shard[ 9m GE Price ]
-Amulet of Fury [ 2m GE Price]
-Armadyl BattleStaff [10m GE Price]
About the Items
Mazcab Ability Codex

The Mazcab ability codex is an item to unlock various abilities. We need to unlock the
Corruption Blas
t ability.
Corruption Blast Ability

The first hit of Corruption Blast deals anywhere from 33–100% ability damage.
Each subsequent hit will deal less damage, decreasing by 20% of the initial hit.
For example, if the initial hit is 1080, the 5 bleeds will be: 1080–864–648–432–216
TLDR: Similar to Barrage, This Ability will spread in 5x5 area and Bleed the opponent 5 times.
Works with any spell.Blood Amulet of Fury

A blood amulet of fury is a neck slot item made by combining
An Amulet of fury with a blood necklace shard.
This requires 80 Crafting, awards 200 experience, can be assisted, and cannot be reversed.
The amulet has a passive effect that activates every 15 seconds and damages monsters in
Combat with the wearer for 200 to 500 life points, while healing the wearer for the same amount.
TLDR: This Amulet will heal 240k Life points /hr lasting about 10hrs. 1m to Repair (500k @ 99smith).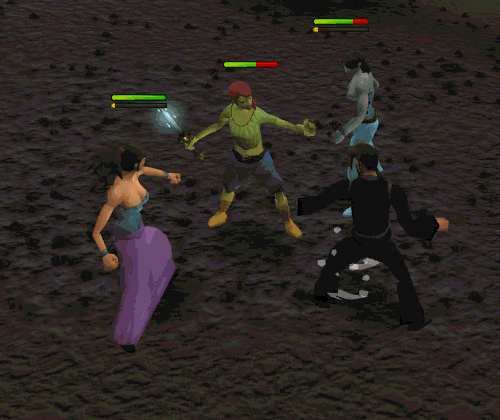 Corruption Blast Spreading to nearby Targets in PvP
Corruption Blast Spreading to nearby Targets in PvM.
Corruption Blast at Abyss
Ability Bar Setup:[Revolution Mode]
Gear Setup
Any Non Degradable Gear like Subjugation Set / Mystic etc.
Any Staff till 78 magic and then Use Armadyl battlestaff which provides Free Air Spells.
Choose the Best Air Spell you can do as Damage is same for Air/Water/Earth/Fire.
Requirements to enter Abyss:
Abyss Miniquest [ 15mins maximum ]

This Method Gives upto 650k xp/hr with Armadyl Battlestaff with 100% Afk Method.
Upto 800-900k xp/hr if Nox Staff  or Seismics are used.
With Armadyl BattleStaff , You can train your Magic , Defence and HP without any expense as it give Free Air Spells till 99 or 120/200m XP
Estimated Time for an Account to be Poly Ready = 65hours (depends on efficiency)